Step 1: Finding your Identification Label
The identification label is the key to finding the information you need about your tractor. Labels will look different depending on the model, below is an example of a typical label: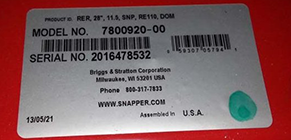 Where is the identification label?
Below are the most common places to find your identication label.

Garden Tractor
On the right hand side of the tractor on chassis below the bonnet.
Rear Engine Rider
Located on the rear chassis of the tractor in the lower corners.